Tahun 2012 aku mulakan dengan Bismillahirrahmanirrahim....dan Assalamualaikum. Blog memang dah naik sawang..tak sengaja tak nak update kerana banyak constraint yang berlaku sempena tahun baru 2012 ni dan semuanya aku sambut dengan Alhamdulillah...syukur.
Aku bukan sesibuk Perdana Menteri..wow good intro indeed...wallla...apa yang menyebabkan new year 2012 dimulakan dengan kesibukan adalah aku dan family dan pindah rumah. Our new house/ own house dekat Terengganu baru je siap 6 bulan..belum puas tidur atas tilam empuk sedunia...dah kena pindah..takpe ini Rahmat Tuhan...some friends may know n not...yang tahu biar tahu yang tak tahu remain tak tahu je lah...hahahaha...poyo betul statement 2012...kami dah pindah dan sekarang stay kat Selangor...untuk 3 tahun sahaja...Insyallah aku yakin 3 tahun sahaja not more than that...disebabkan itula kami sangat sibuk berpindah randah form KT-Selangor...dan Alhamdulillah everything went well...the house and the kids...thanx a lot to mr. hubby fullfilled everything for our new rented house...walaupon banyak sacrifice $$$$ and we became tenant again...hahaha...aku sayang kamu, suami!
Done with our new life at Selangor...Adam pula starts his new school at Genius Aulad..Alhamdulillah aku boleh kata zero problem...maybe dia dah biasa sekolah so start his new school kat sini sangat x de apa nak risau...cuma aku as mommy biasela risau sbb Adam dah start go and back from school with school van. And amazingly Adam is so independent boy...dia boleh jalan sendiri from van, scan access card to get access to the lobby lift, and then get into lift and finally to our apartment unit on his own...owh i cried...anak mama dah besar!!!! Alhamdulillah again...
Genius Aulad Bandar Baru Bangi
During parent's orientation day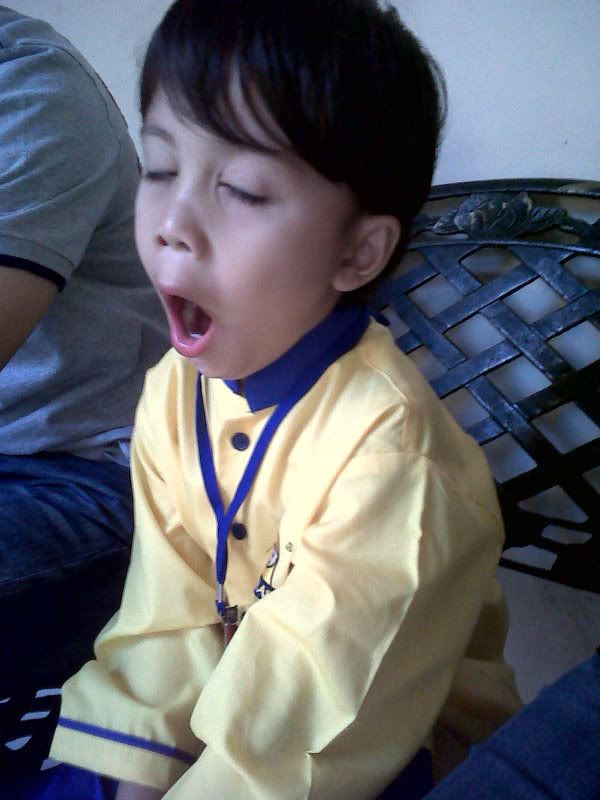 First day school was so sleeeeeepy....zzzzzz
Plus briefing from papa makes Adam become more sleepy
Seperti biasa mama pasti ada enteprem...mama was so excited...and Adam sangat boring camwhoring

.....
2012 also starts with introduction of solid food to my little precious...Ziyad...he's just 5 1/2 months but i perasan the indication of laparness in him....after some simple research and there are so many yes to the questions when to start solid food to my baby...my husband and i decided to let Ziyad makan.....i start with papaya n apple puree...once a day and become twice a day...but Ziyad still showing some signs of tak cukup makan lagi....so I decided to start with carbo which is bubur...of course bubur with liquid texture...and plus with carrot, pumpkin and spinach puree...sebagai perasa...and Alhamdulillah Ziyad wean so well...mmg dia sangat lapar...so now the routine goes like this...
Breakfast: Bubur + Carrot puree
Lunch: Bubur + Pumpkin puree
Tea: Apple puree (penting for his poo poo!)
Dinner: Bubur + Carrot + Spinach puree
Ziyad was so happy dapat makan! Mama happy oso makes papa proud....hahhaa...papa pulak proud ye...because everything were homemade...mama gigih buat stok makanan tuk Ziyad...and im thinking of tukar menu Ziyad next week....
Alamak terdelete gambar Ziyad mamam...gambar ni masa lepak at our apartment's park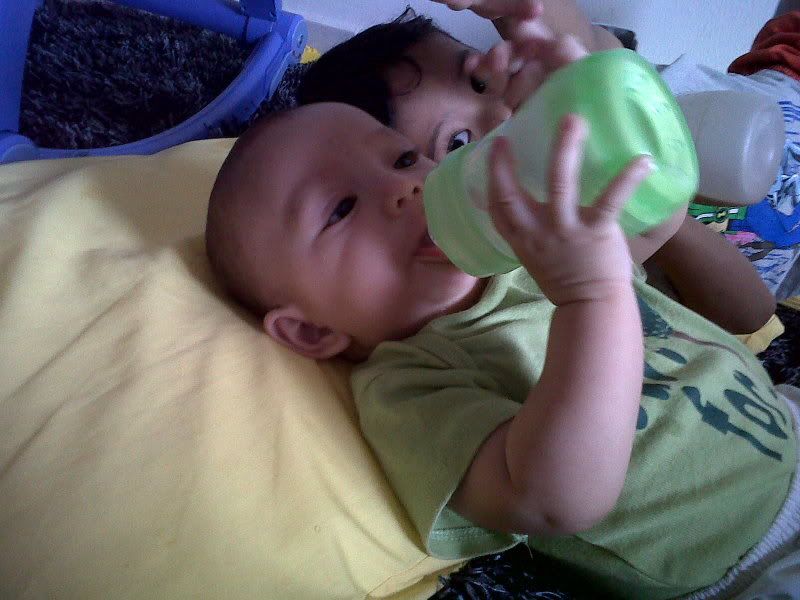 Ziyad and Abg Iman camwhoring...
That's Ziyad....untuk mamanya pulak....2012 starts with menghabiskan saki baki cuti tahun 2011...hoyeh sangat bahagia...lebih lebih lagi suami terchenta ada di sisi...sila muntah! so tempat baru duniA baru..kerja baru semasa cuti adalah explore tempat makan...explore tempat berjimba-jimba...muhahaha...nasib baik ada Mr. GPS...takdela makan buah langsat....
Enteprem...
dan seperti biasa...acara masak-masak di rumah baru...
Notice Ziyad's pureee dalam bekas oren tu!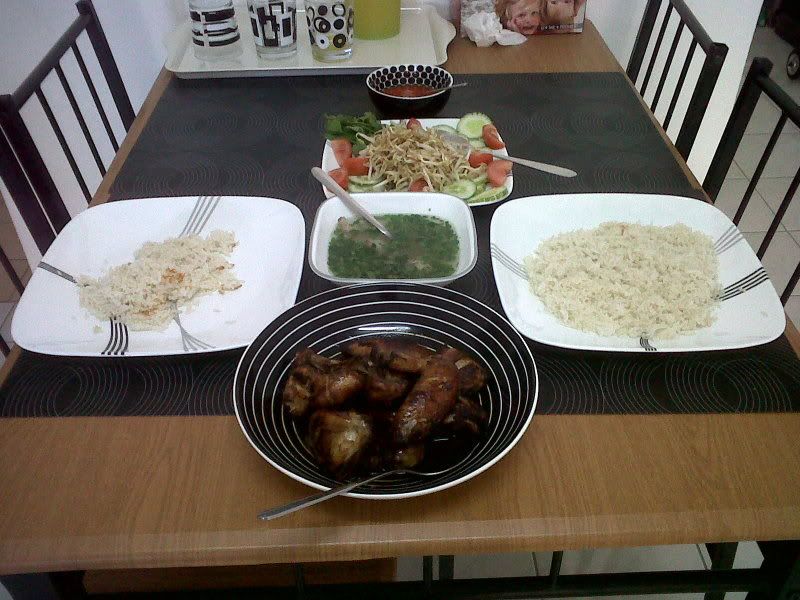 No update pasal Iman n papa...kerana semuanya normal sahaja...to my readers...happy new year 2012...may Allah grant us with happiness, wealth, health and success....Amin....will soonest update about my life as a student!