Alhamdulillah... I manage to handle this w/o hubby.
Semalam, minor accident telah berlaku kat rumah.. a home should be the safest place in the whole world kan..tapi percaya kepada kun faya kun.... ini semua terjadi mungkin untuk mengajar aku lebih bersedia menghadapi segala kemungkinan di saat tiada teman baik di sisi iaitu suami...
Ziyad terluka dalam 2 cm dan agak dalam sampai nampak isi sikit kat bawah kulit di bahagian dahi...disebabkan kena tepat kat dahi aka kepala...darah memancut2 keluar... inilah yang dikatakan pecah kepala..aku panik jugak pada mulanya... tapi boleh fikir rasional lagi.. disebabkan darah memancut keluar sampai nampak mata ziyad je yang putih... yang lain semuanya dipenuhi darah...bibik dah nangis2... aku cuba berhentikan darah yang keluar dgn tutupkan tempat luka dgn towel. Dalam 10 minit jugak..baru darah berhenti lepastu barulah pergi ke hospital..first time jejak ke emergency unit... gugu gaga jugakla..
Sampai kat emergency unit... MA kat situ cuba lagi stopkan darah yang mengalir tapi agak susah sbb ziyad meronta-ronta... pada mulanya Doktor nak stitch tapi disebabkan ziyad sangat berkuasa super powernya..4 org pegang pon dia boleh lepas lagi.. at last try gluestitch dulu, alhamdulillah lekat... so takyah jahit.... alhamdulillah... everything end up in under control... xde adegan emosional... dah balik rumah tgk ziyad tdo dalam keletihan barulah aku rasa sebak dan menangis....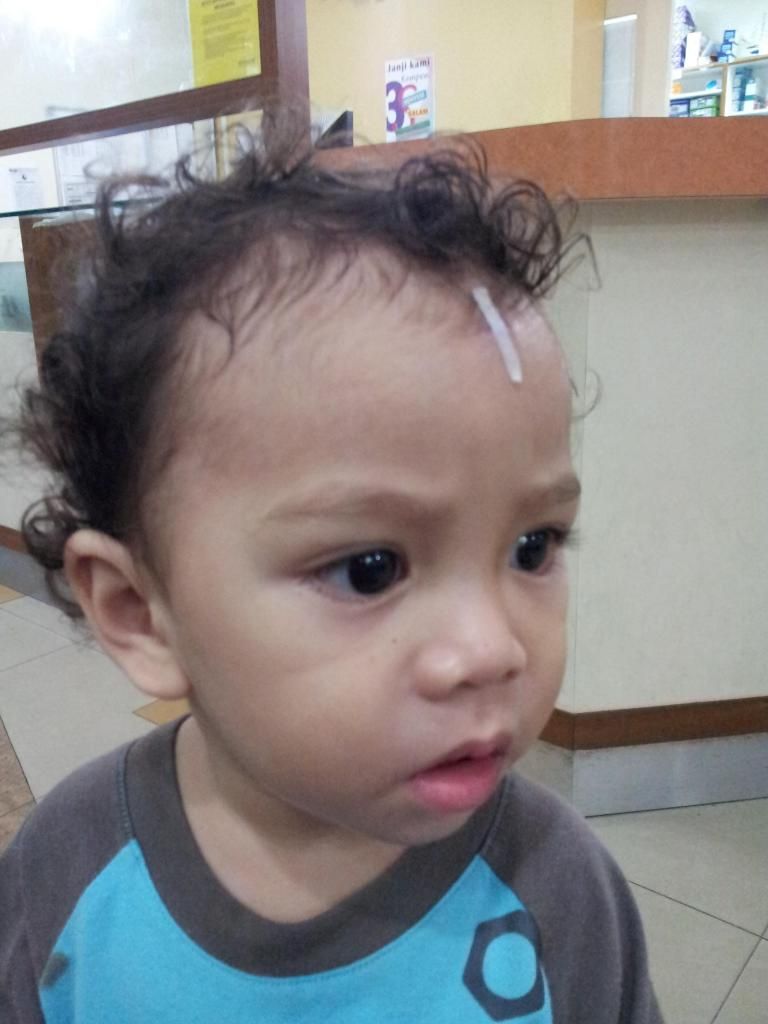 Masih trauma
Emergency Unit
Hospital Pakar An-Nur, Bangi