Bangga menjadi rakyat Malaysia!
Tak perlula ku ulas perihal dorang main bola semalam kan...dh banyak dh blog2 bertauliah ulas pasal mende ni..
Cuma nak share...Rio Ferdinand...ala pemain MU yang hensem tu..[sbb dia main MU je aku cakap dia hensem] wish congrates kpd team Malaysia melalui twitter nye...Bangga dua kali!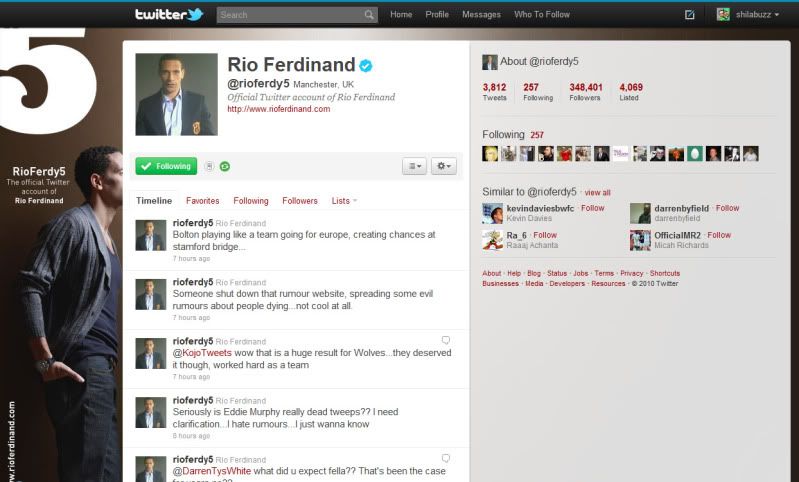 Inilah antaramuka (betul ke istilah ni? aku taram je...) twitter Ferdinand...kalau korang nak follow..klik kat sini
Inilah tweet Ferdinand kat team Malaysia...Bangga kan? Bangga kan? Meaning to say...dia kenal la jugak negara Malaysia ni..so kita bukan jaguh kampung je...buktikan kita Jaguh Dunia pulak ye, skuad Malaysia!
Walaupun pada awalnya benda alah ni yg menjadi isu...tapi nasib baik tak ada apa2 yg berlaku kpd penyokong kedua-dua negara..
Buat penyokong Indonesia, cuba lagi lain kali...aku pon sokong Indonesia jugak sbb bibik ku org Indon and player korang hensem2..kesian dia...tgk bola smlm lepas penalti tak masuk terus dia tidur...frust katanya...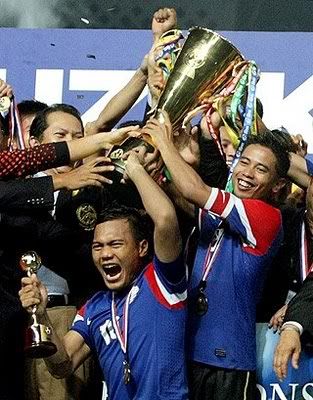 Kenangan terindah Malaysia
Pemenang Piala Suzuki AFF 2010!